Explogrow Organic Label of the liquid bio-fertiliser and inoculate with powerful polymicrobial soil beneficial microbes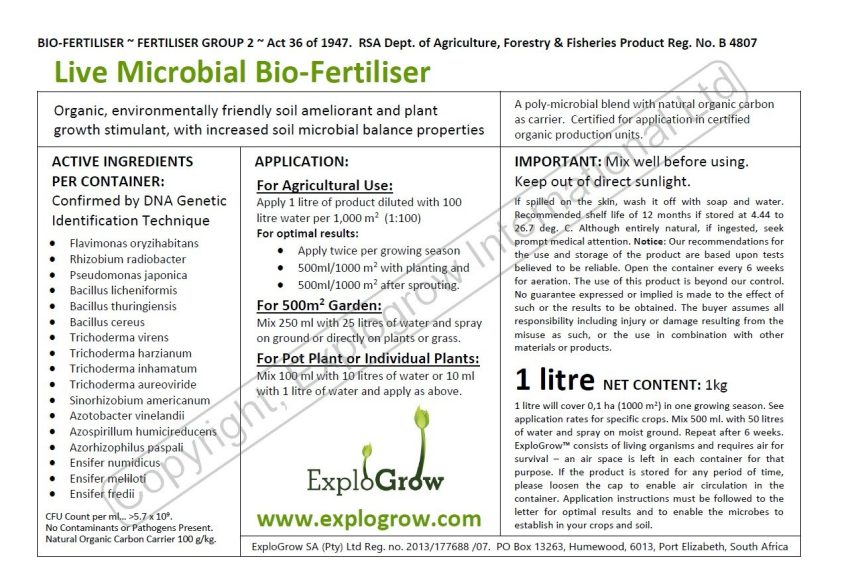 Explogrow Organic Label
Organic, liquid bio-fertiliser, environmentally friendly soil ameliorant and plant growth stimulant, with increased soil microbial balance properties.
ACTIVE INGREDIENTS PER CONTAINER:
Confirmed by DNA Genetic Identification Technique
Flavimonas oryzihabitans
Rhizobium radiobacter
Pseudomonas japonica
Bacillus licheniformis
Bacillus thuringiensis
Bacillus cereus
Trichoderma virens
Trichoderma harzianum
Trichoderma inhamatum
Trichoderma aureoviride
Sinorhizobium americanum
Azotobacter vinelandii
Azospirillum humicireducens
Azorhizophilus paspali
Ensifer numidicus
Ensifer meliloti
Ensifer fredii
CFU Count per ml… >5.7 x 109.
No Contaminants or Pathogens Present.
Natural Organic Carbon Carrier 100 g/kg.
---