Organic bio-fertiliser field trial results: South Africa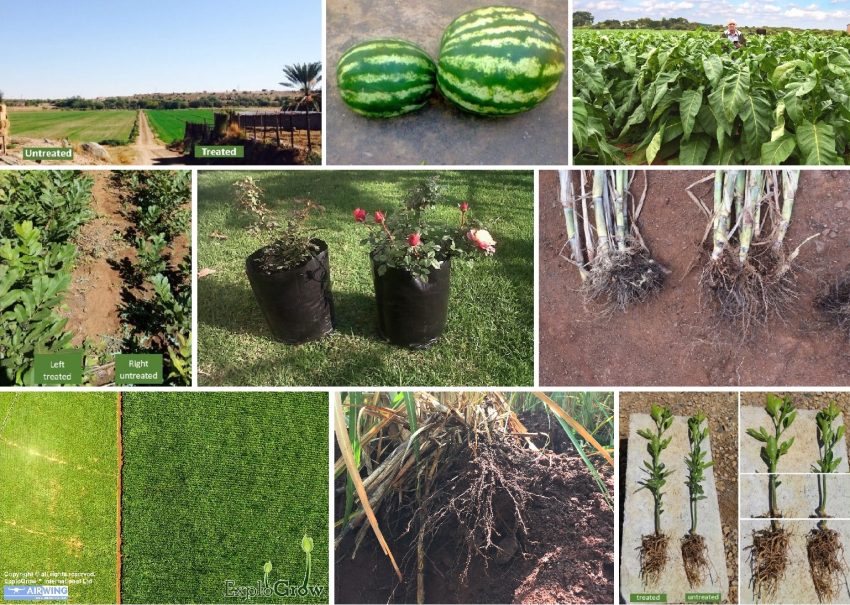 Updated organic bio-fertiliser field trial results
Crops tested and recorded in the report below:
Soybeans
Sugarcane 
Lucerne (Alfalfa)
Grass / Grazing 
Winter Wheat
Spinach 
Watermelon
Radishes
Tomatoes
Pecan Nut Trees
Potatoes
Spring Onions
Brinjals (Aubergines) 
Tobacco
Orange tree seedlings
Strawberries
Peppers (green)
Peppers (colour)
Onions
Dr Stephanus Malherbe elaborates on the 17 micro-organisms contained in ExploGrow™ and their specific functions and effects on the soil and plant health functions, also describing how some of the microbes may enhance the plant's resistance to certain diseases. The use of this particular blend of polymicrobial bio-fertiliser, promotes sustainable agriculture due to its formulation that includes nitrogen-fixing bacteria that even fixes atmospheric nitrogen, a potent phosphate solubiliser, microbes with soil balancing properties and more. Our formulation of microorganisms enables farmers to "reduce petrochemical fertilizers by over 25 -50%..." with a natural plant growth stimulant that is more than simply environmentally friendly since it also improves the condition of the soil.
Click on the image below to open the PDF report in a new tab.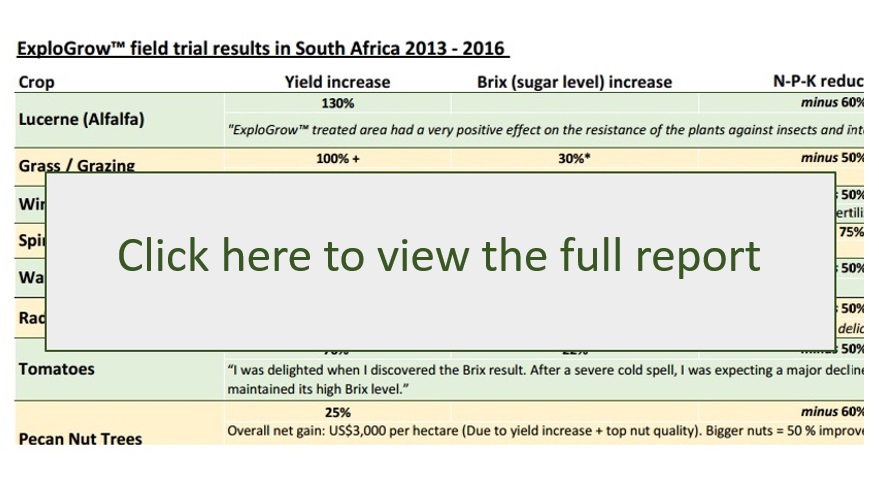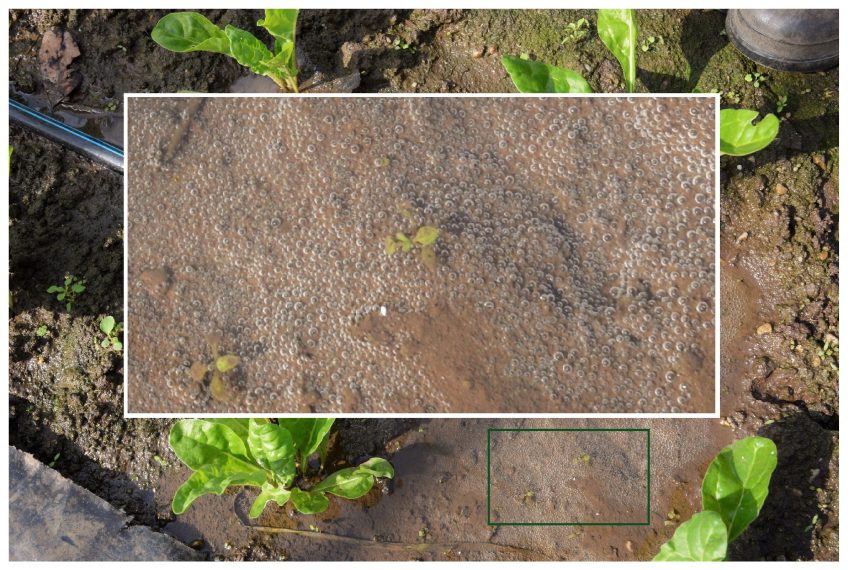 Photo: "Visible air bubbles generated by the polymicrobial activity of the microbes in ExploGrow™" Mr Young, BSc
"After two months of using ExploGrow™ (reducing chemical fertilisers by 75%), I have doubled my production." Mr Young, BSc (farm manager of a farm specialising in irrigated tunnel production).
Some bio-fertiliser benefits experienced by farmers:
Nutritious crops with higher (10% - over 20%) uplift in Brix (sugar) levels
Plant's root systems typically more than double in size
Reduction in use of chemical fertilisers (by over 50%)
Cost neutral or better (increased profit per hectare)
Much larger crop yields, cases of over 200%
Reduction in watering (by at least 20%)
Soil and plant health optimised
Organic production
"The unique microbial composition places ExploGrow™ in a league all of its own".Dr Stephanus Malherbe, BSc; BSc Hons.; MSc (Microbiology); Pr.Sci.Nat. (Agricultural Science); PhD (Agronomy).
---